تاريخ : پنجشنبه سوم مرداد ۱۳۹۲
این ماییم، دوباره اینجاییم. با هم هستیم ولی تنهاییم. اینجاییم نه از برای خودخواهی، نه از برای خودنمایی، اینجاییم از سر عشق، اینجاییم از سر شور، از سر غرور. اینجاییم از برای رشد، از برای اوج، از سر جنون، اینجاییم برای پایان، پایان یک آغاز، پایانی که آغازی بلند پروازانه تر را نوید دهد. 
پایانی که پایان نیست، که شالوده ی آغاز است، که پشتوانه ی آغاز است، که تیر خلاصی است بر نتوانستن ها، بر خود کم بینی ها، بر در حصار ماندن ها، بر گرفتار تکرار شدن ها. آری تیر خلاصی است بر ماندن ها، نرفتن ها، نرسیدن ها، غروبی است برای این فرسایش ها و طلوعی است برای ریشه زدن ها، برای شکوفه دادن ها. بوی خوش تغییر است و مهر ابطال است بر راکد بودن ها.
می خواهیم مال خودمان باشد، راه خودمان باشد، مسیر خودمان باشد، طناب خودمان باشد، از نفس و عرق خودمان باشد. می خواهیم توانستن را معنی کنیم، می خواهیم تغییر را زندگی کنیم، می خواهیم خواستن را بفهمیم، خواستن را بخواهیم. می خواهیم روی آن بزرگ مردی را سفید کنیم که مویش در این راه سفید شد، که قلبش در این راه شکست، که روحش در این راه درد کشید. می خواهیم پیرمردی را شاد کنیم که بغض به گلو نشسته اش فریاد شد، و فریادش به دادگاه برده شد. می خواهیم راهی را برویم که درست است، که رو به اعتلاست. می خواهیم طعنه بشنویم، مسخره شویم، مضحکه شویم، پول هایمان را هدر بدهیم، بدویم، گریه کنیم، خطر کنیم. می خواهیم کوهنورد باشیم، می خواهیم میراث بران شایسته ای باشیم، نمی خواهیم زیر چتر زور باشیم، نمی خواهیم کور باشیم.
آری، ما اینجاییم، تا یادی از کوهنوردی اینک مرده ی کشورمان کنیم، تا کوهنوردی مان را دوباره ورق بزنیم، تا یادگاری از خودمان به جا بگذاریم، توشه ای  برای کوهنوردان آینده ی کشورمان. اینجاییم تا بر تن یک کوه هشت هزار متری یادگاری خودمان را بنویسیم، نام  ایران مان را حک کنیم، اینجاییم تا دوباره زنده شدن را زمزمه کنیم.
Knot Tying for Climbers
The ability to tie knots correctly is an essential skill for climbers and many others involved in extreme sports. Correctly tying in and anchoring is essential to the safety of the climber and his/her partners. An incorrectly tied climbing knot may lead to an unprotected fall. Several knots are commonly used in climbing, listed below. Reviewing and practicing them with a friend will help keep you sharp for the time a particular climbing knot is needed.
Climbing Knot vs Rope Strength
A key component of the climbing knot is the rope strength. The quality of the knot can actually influence the load your rope can withstand. Your skill in knot tying (how clean is your knot) will influence the breaking strength of a rope, and add to your safety while climbing.
Dress up the Climbing Knot
This refers to tightening and setting the knot in a way that the rope does not cross (twist) over itself within the knot; and refers to the knot being tightened evenly. Climbing knots should be uniformly tight and the rope should not twist within the knot. When the rope is twisted or the knot is unevenly tightened it puts stress on parts of the fibers and unintentionally weaken the rope.
The Bowline Knot. This is a popular and versatile climbing knot. This knot can be tied with one hand, making it a versatile knot to know how to tie. The bowline is commonly used to tie into a climbing harness. It is easy to tie and untie even after weight has been put on it.
The bowline knot is made by creating a loop in the rope a couple feet from the end, then passing the end over the edge of the loop and back through the hole. The bowline can be tied with one hand. This feature makes it a valuable knot for climbers.
A good way to remember the bowline sequence is this simple phrase: "The rabbit comes out of his hole, around a tree, and back into his hole.
Sequence to Tie a Bowline Knot:
1.
Start by making a loop as shown.
2.
Pass the end of the rope through the loop-over then under.
3.
Pass the end around then back through the loop original loop. Tighten the knot evenly by hand and secure the end using a
stopper knot
.
ادامه مطلب...
Part 2
This article is aimed at those of you who have done a bit of fingerboarding before, or are simply dead strong and want some ideas about how to make a new fingerboard training plan for maximum gains.
Rather than offering example training plans, this will simply offer advice and ideas about various fingerboarding exercise and how they can be used and built up into a fingerboard workout. It is presumed that you will have read the previous article and maybe even done some of the exercises. If there is anything you don't understand, the chances are it will be explained there.
The idea with fingerboarding is to place a load on the fingers, to which your body will respond by making the fingers stronger. Finger strength is climbing. Without it you will not climb hard. It's that simple.
Back in the days of lycra, fingerboarding generally consisted of doing maximum 1 armed hangs off an edge. This is great and played a part in forming some of the strongest sets of fingers the world has ever seen (Malcolm Smith, Jerry Moffatt, Ben Moon etc.) however more recently a few new ideas are floating about.
The idea of training the hand as groups of fingers, rather than a whole hand is seldom practiced, but I think it is incredibly useful. Dan Varian wrote an excellent article about this "3,2,1 theory" which can be found on the Beastmaker website (http://www.beastmaker.co.uk/Grip-article.htm). Basically it suggests to train the fingers in groups. Start training them in a 4, then remove a finger - so your hanging off the front 3 or back 3 fingers. When this gets too easy, remove another finger, and train on front 2, middle 2 and back 2. Eventually you're down to hanging on one finger, effectively training them one at a time ("but at least the others get plenty of rest...").
This technique allows you to identify weaknesses in your fingers, and train them specifically (i.e. a lot of people have a very weak "back 2" and find that their overall hand strength increases alarmingly when their "back 2" strength begins to catch up with the strength of their front 2.
This same logic can be applied (albeit a bit more dangerously) to crimping. First you hang on 4 fingers, crimped. They you move on to hanging front 3 and back 3 etc. However you will probably stop before graduating onto the 1 finger crimps as by then you will find climbing far too easy and will have retired in order to give everyone else a chance to catch up.
Below are the main exercises that can be done on a fingerboard. It is worth experimenting with these to find a combination of exercise that suits you and your goals, and allows for most rapid progress. The idea is not to create a training plan for you, but to give the tools to create one for yourself, that is tailored exactly to your goals.
These exercises can be done on any combination of numbers of fingers. Taking off fingers is an excellent way of increasing difficulty. Do be careful though...
Repeaters
Hang for a set time, rest for a set time. Repeat. These are very effective and will leave you feeling beaten, but are perhaps more geared towards the power endurance end of things. This however does mean that you make faster gains with this than the more maximum strength based exercises. Repeaters can be altered almost infinitely to change their difficulty:
Vary hanging time
Vary resting time (between reps and sets)
Add weight (which can be reduced midway through a set)
Remove weight
Do on one or 2 arms
I have had a lot of success training with repeaters over the years. They seem like the best way to leave you feeling like you have had a proper workout, and that can't be a bad thing!
ادامه مطلب...
Part 1
First lets take a look at the basics. Your fingers are what attach you to the rock. As long as you can hold on, you have a chance of doing the next move. If you can't hold on, you have no chance!
For most people, finger strength is always the limiting factor of how hard they can climb.  Their fingers let them down way before anything else does. This means that a huge amount of their training should be focused towards getting stronger fingers. Your fingers can never be too strong! FACT
Bouldering is a great way to train the fingers if you choose your problems and angles appropriately. Climbing on steep boards with small holds is guaranteed to make your fingers work hard, and consequently adapt and become stronger. However, if you want to make the fastest improvements in finger strength it's all about the fingerboard. Fingerboards allow you to isolate grip positions and train them to their maximum without any other factors getting in the way. When you are simply hanging off your fingers you are not going to be limited at all by body strength, technique, feet popping off etc. meaning you are training your fingers and your fingers only.
This gets covered over and over again, but I will cover it here for completeness. There are 3 main grip types. Full crimp, half crimp and open hand (see video). The full crimp is when your thumb is wrapped over your fingers. I never train with my thumb on (as it tends to tear the skin on the sides of my index fingers) but I save it for special occasions (when I want to climb hard)! Instead I train in the half crimped position. This has 2 forms, pinkie straight and pinkie bent (both with the other 3 fingers bent). I find that for maximum crimp strength, I have to train with pinkie bent. Weather you crimp with a bent pinkie finger or not comes down to the difference in length between you ring finger and your pinkie. If they are of similar length it is more natural for your pinkie to bend when crimping, otherwise it will remain straight. 
The open handed grip, with fingers totally straight, is used on slopers and pockets. It is often neglected by people but is a very useful strength to have as it allows you to catch holds at full stretch and/or at speed, before reeling them into a crimp position.
All grip positions are illustrated in the video above.
Climbers tend to favour a particular grip type, so they naturally develop a bias towards holding holds in a certain way. In order to become a well balanced climber capable of climbing everything in your path it is worth ironing out these discrepancies in your fingers.
The literature suggests that training the fingers in one position will strengthen them for that position only (plus or minus a 15 degree angle either way). This means that to train for crimps you need to crimp, and to train for slopers and pockets, you must hang open handed. Strength gains for one grip type will not necessarily transfer to another grip type, so train them all (prioritising the weaker areas).
There is still an old-school attitude floating about that crimping is dangerous and shouldn't be trained. Well, this is rubbish. Crimping is the strongest way to hold small edges (which make up the majority of handholds) so needs to be trained. If you are careful you can easily make vast improvements in crimp strength without getting any sign of injuries, and this means you are at a reduced risk of injuring your fingers when out climbing as you are prepared for hard crimping.
ادامه مطلب...
Being good at rock climbing is all about learning proper technique and then ingraining it so it becomes second nature. In the long run, technique will take you much further than a strong back and a vice grip. Yet most climbers are hyper-focused on trying to "get stronger" … oftentimes at the expense of learning good tecehnique
Emily Harrington, who has climbed multiple 5.14's in various stages of personal fitness, recognizes the superlative of proper technique. Emily has been climbing for 13 years, putting in well over the requisite "10,000 hours" one supposedly needs to master any craft. As a result, she believes that no matter what shape she's in, she will always be able to climb at a baseline of 5.12a throughout life
"If you know how to move your body, you should be able to climb 5.12a," Emily says, "no matter how 'strong' you are
This may seem surprising to the climbers out there for whom 5.12a is a lifetime goal, yet the point is not that 5.12 is "easy," but rather that proper technique honed over many hours of practice is more enduring than one's momentary form strength and fitness. The problem is, it's easier to get stronger than it is to get better. Anyone can go to the gym and rip off a bunch of reps or climb a bunch of boulder problems and feel as though they have accomplished something. Training with the goal of improving technique is more cerebral, requiring a certain degree of consciousness about what you're doing. This is because good technique is all about ingraining movements, coordinating the upper and lower body and maintaining awareness of how much effort you're expending to the point that it becomes second nature. Great climbers aren't thinking about what they need to do—they just do the exact right thing. This is the art of free climbing
Improvements in one's technique are much less tangible—harder to measure or gauge. Thus, it can be difficult to know how to approach the gym with the goal of becoming a better free climber. Here are a few tips that you may find useful
First, be good: Many beginner and intermediate climbers have approached me wanting to know how to get strong, but I've never heard anyone ask how to get good. The two are undoubtedly related. But instead of jumping on the hardest route or boulder problem you think you can do, focus on making perfect ascents of easier routes and problems. Try to be good before you try to be strong. How perfectly can you climb something
Bad feet: Problems in the gym typically get harder as the hand holds become worse and farther apart, while usually the foot jibs remain pretty good. But if you have the ability to help set some problems wherever you climb indoors, I recommend setting decent hand holds and the worst, most polished, difficult-to-stand-on footholds you can find. You want them to be bad, but not so bad that you just force a campus move. You want the focus to be on using your feet properly—the first and most lastingly important step in becoming good. As a double benefit, nothing will get you stronger than climbing problems with bad feet
Master the back-step: One of the most useful maneuvers in climbing is the back-step, where you stand on the outside edge of your right foot and rotate your lower body so that your right hip is against the wall (or vice versa). Most people climb straight on, with their hands and feet set as if they were climbing up a ladder. If you watch great climbers, they are rarely so squared up; one hip or another is always twisted toward the wall, with a foot back-stepping. Also, focus on getting into back-steps quicker. Many climbers put, say, their left foot on a hold, then match their right foot on the hold in the back-step position. Instead of messing around with matching feet, many times it's better to cross the right leg over and get into the back-step right away
Stand Up: You've undoubtedly heard the advice, "Keep your arms straight!" But, of course, if your arms were straight the whole time, you wouldn't be able to flex them to pull yourself upward. When you're hanging on holds, indeed, it's a good idea to keep your arms straight. But the second part of this advice that's left out is how to begin initiating your upward movement. Typically, beginners will initiate the move with their arms: pulling themselves up, locking off like on a pull-up bar, with their feet way low. Instead, try to always initiate your upward movement with your legs. Keep your arms straight and lever yourself upward by pressing with your feet. Eventually, you'll have to flex your arms, but try to do so only after you've initiated the upward movement with the legs--even if it's just a little bit. Teach yourself what this feels like by climbing easy (5.6) routes in the gym. Hang from straight arms and try to drive yourself upward as far as you can by high-stepping your feet and using only your leg muscles to stand up on every hold
Wear better shoes: Beginners typically choose loose-fitting "comfortable" shoes. But no matter what grade you climb, I recommend you get a high-end pair of shoes that are snug (not tight!). Higher end shoesgive youmuch more precision, and do a better job of  allowing you to use all parts of your foot. This is the one and only piece of gear that can actually make a difference in your climbing! Get the best fitting pair of high-end shoesyou can find
Develop your own style: Something that often gets lost when "experts" try to teach beginners how to climb/what to do is that there is no such thing as one perfect way to climb a route or problem. There are no hard and fast rules. For some climbers, the best solution to a problem will be to climb fast and very dynamically—it's possible that this will be more efficient for them. Others may find it works better for them to climb at a slower pace, more statically and with greater control. This is where free climbing becomes an art of self-expression. Cherish this. For example, in his clinics, Dave Graham spends a lot of time helping people develop their own styles by having a group of people figure out two or three different beta sequences that work on a given problem. Try to climb a problem two or three different ways. See what works for you. Don't be afraid to experiment. Perhaps it's easiest to just dyno! Ultimately, the best style is the one that gets you to the top most efficiently
Avoid finger injuries: Have you ever noticed that climbers typically blow a tendon within their first three years of climbing? Beginner climbers tend to race through the grades relying on rapid strength gains, not technique, which creates a false sense of ability that encourages them to get on hard, crimpy routes before their tendons are ready for them. While the musculature may be there, building up the tendon resilience to withstand the stress of hanging from small holds takes a long time—sometimes three years or more. Avoid finger injuries by using the open-hand grip indoors whenever you can. Also, STOP crimping before your fingers feel sore! Admittedly, this is easier said than done
Build a base: Dani Andrada, one of the best climbers in the world, was rumored to have redpointed 50 5.13b's before he even considered getting on a 5.13c. While those grades are admittedly elite, the lesson still applies: Take the time needed to master the easier grades before moving on. Did you redpoint 50 5.11d's before even trying a 5.12a
Make climbing a practice: We try to perform our best every single time we enter the gym or a crag. Instead, start thinking of your climbing sessions as a practice. If you climb two or three times per week—don't worry, the strength will come. But for right now, focus on mastering good technique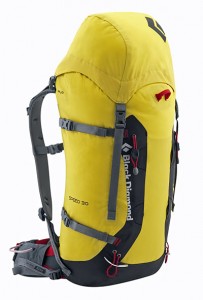 To an outside observer, this would look really strange. There we were, at about 13,000′ on the Southwest Ridge of Mount Sneffels, and Jeff Achey and I were actually putting big rocks into our packs for the remainder of the ascent. We were on a press trip, to try out the new climbing packs from Black Diamond that feature the Active Frame Technology, a new system that allows the hipbelts and shoulder straps to move with you. It does an incredible job of making your load feel lighter than it is, hence we had to add some rocks to what we were already carrying, to see how much these things could take
Our group had been brought together by Backbone Media, in order to test the new packs in the high peaks of the San Juans. The night before our ascent of Sneffels, Nathan Kuder, who oversaw the creation of these packs at BD, relayed a humorous story about how these new bags carried so well you could forget you were carrying anything at all. He was out testing a prototype, and came across a stream which required some rock hopping to get across. On the last hop across a bigger gap, he came up short and fell into the stream, because his brain didn't register that he was heavier with the pack on, due to how well the pack was carrying
Back on Sneffels, we continued up the peak with the added weight in our bags, scrambling over ridges and crossing a few late summer snowfields. I soon found myself breathing heavier and feeling more strain on my legs, and didn't immediately make the connection that this was due to the heavier bag, because the pack was still carrying like a dream! From there on, I was sold on the new system, and a 15 mile, 5000′ climb of Gladstone Peak the following day sealed it. These packs were the real deal, and everyone is going to want one
The Technology
The Active Frame Technology is part of the broader Active Form Design , which combines suspension, fit and construction to create the most high end packs available. It first debuted with Black Diamond's line of backpacking packs in 2010, and is being applied to climbing specific packs for the first time in 2011 with the launch of the Ascent series. These packs utilize two different suspension systems, the reACTIV and ergoACTIV. Both feature SwingArm shoulder straps that are linked together via a low friction cable on the bottom of the pack, and virtually eliminate hot spots on your shoulders by distributing the weight equally, no matter whether you're reaching over head for the next hold, or simply walking down the trail
The reACTIV system is employed on lighter and small packs, with an emphasis on fast and light travel in alpine environments. It's designed to offer comfort while minimizing bulk for carrying lighter loads over big distances. The hipbelt utilizes a pass through design which allows for movement but is not as bulky as the ergoACTIV system. It also features a lighter frame
The ergoACTIV system is found on the packs meant to handle heavier loads, and offers an optimal blend of freedom of movement and stability. The centerpiece of this system is the custom shaped ball joint that attaches the hipbelt to the frame. The amount of unrestricted movement that this system offers has to be experienced to be believed. The frames on this system are also a little beefier to handle the heavier loads
The Packs
The two climbing specific packs that really stood out on our trip were the Axis 33 and the Speed 30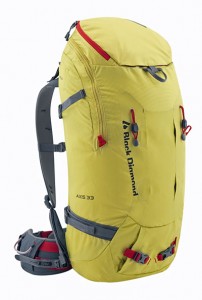 Axis 33
This pack is described by BD as "a fast moving, guide-style climbing pack that moves effortlessly with you in any direction on ice, rock or alpine missions thanks to its patent-pending ergoACTIV suspension and streamlined aesthetics." This top loading pack has attachment points for a rope, helmet, crampons and ice axes, allowing you to use the main compartment for everything else. And the hipbelt is removable, leaving a fixed 25mm webbing belt for a more streamlined setup. Throw in a thermoformed, vented backpanel and hydration compatibility, and you've got a complete package
I've been testing the Axis 33 in the time since our San Juans trip, and I've used the pack for alpine, sport and trad cragging. Despite my initial misgivings about a pack this small, it's really proved itself as a good all-arounder. For alpine and trad cragging, you can get a double set of cams, runners, etc. and the other essentials in there with careful packing. One thing to be wary of is that all these new packs have a recommended weight range. Within that range, they carry as they are intended. Overload it, however, and you'll get less of the benefits of the suspension system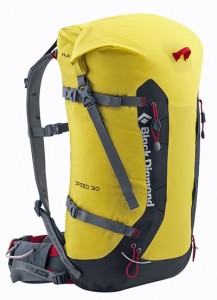 Speed 30
The Speed 30 is a rucksack style pack for fast and light endeavors in the mountains. For the weight conscious consumer, it can be stripped down to the bare minimum by removing the floating top pocket, padded hipbelt, aluminum frame and framesheet. The IceLink attachment system offers a new and innovative way to attach any ice tool to the pack, and you can also strap on a pair of crampons and a rope as well. With the top removed, it closes via a dry bag style, roll-top closure system. It also features a thermoformed, vented backpanel and hydration compatibility
These packs truly represent a major step up in pack technology, and it'll be interesting to see how this changes the game. As Nathan pointed out on our trip, while this kind of suspension has been tried before, none have pulled it off successfully…until now. To that end, Black Diamond has an informative new site setup to show off all the new packs coming out that utilize this new technology, www.activeformdesign.com. It's full of great info, including the recommended use of the pack, weight, distance, etc
تاريخ : جمعه بیست و چهارم آذر ۱۳۹۱
Lets discuss some safety tips while traveling/backpacking in a cold weather environment. Backpacking in winter can be very rewarding as long as we travel properly prepared. It seems that the word survival has a certain stigma carried with it within the backpacking and hiking circles. For this reason we like to establish the article by using words such as emergency preparedness etc. Whatever you prefer to call it, the fact is that people too often hike out into the woods unprepared. These neophyte wilderness travelers are either hung up on the latest backpacking gear, or too proud to look at the situation honestly. We find these people either succumb to the environment when the slightest change is faced to their perfect equation or a lot of tax dollars are spent sending rescue teams to save them. Lets not forget that often times, they are putting the life of the rescue search team at stake
"In a report published by the Wilderness Medical Society, with the title: "Dead Men Walking: Search and Rescue in U.S. National Parks." Its authors looked at the NPS' annual search-and-rescue reports from 1992 to 2007 and SAR (Search And Rescue) statistics from all NPS units in 2005. Some key findings
--From 1992 to 2007 there were 78,488 people involved in 65,439 SAR incidents. These included 2,659 fatalities, 24,288 injured or sick people, and 13,212 "saves," or saved lives
--On average there were 11.2 SAR incidents per day at an average cost of $895 per operation. Total cost from 1992 to 2007: $58,572,164." http://www.bioone.org
Simply put, a lot of times people are traveling into the wilderness unprepared
Inevitably each year hikers and backpackers go into the wilderness unprepared. This usually comes from a best scenario mentality. The weather station said it is going to be in the sixties today. I do not need that extra layer. On one backpacking forum a member was seeking advice on knife selection. One of the "experienced" members of the group asked the question, "Why do you need a knife? I have been backpacking for years and NEVER needed a knife." We could say this is comical. If we lived in a perfect world where there was no chance of getting lost, falling down, or getting hurt this may make sense. We know with proper preparation and planning we can avoid a lot of situations yes, but perhaps a little room for unforeseen events shows wisdom. Whether you want to call it emergency preparedness or survival, the point is to get out alive. If we are wrong, then why is it every year people get lost and die in the wild. There have been instances of skiers getting lost and spending several days lost while search parties have been unable to locate them
Why do you need a knife? Why do we need an emergency kit? Why do we need a contingency plan
It is simple, we want to come home alive. Survive or perish, you choose
There is no way we can cover every contingency in a short article. We are not claiming to know everything there is to know about winter survival. What we are trying to do is share a few tips that we learned along the way. Read multiple sources and always test what you read
Fire Starting
ادامه مطلب...